Behavioral Health Services
Behavioral Health Services provides a continuum of services to Richland County residents including helping individuals and families who are experiencing acute emotional crises, supporting recovery from addiction or short-term mental health issues,and providing long-term assistance to those coping with persistent mental illnesses and substance use disorders.

Behavioral Health Services Brochure

Behavioral Health Services Mission
To Individual and Families: Improve the emotional well being of individuals and families based upon their identified wants and needs by providing accessible, quality assessment, treatment, rehabilitation, education, and support in areas of mental health and addition recovery.
To the Community: Be a resource on mental health and addiction through education, prevention, intervention, and treatment in order to promote an environment that is supportive to individuals seeking and obtaining assistance.
Eligibility and Cost of Services
Who is Eligible for Services?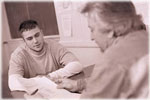 Any person who is a Richland County resident is eligible to receive services. Some programs have specific admission criteria that must be also met. There are no financial eligibility requirements for any of the Behavioral Health Services Programs. Non-Richland County residents who are covered by insurance or health plan that has a provider agreement with the Behavioral Health Services are eligible to receive those approved services.
Cost of Services
Most services are covered by private insurance, Medicaid, or Medicare.
However, no one will be denied services because of their insurance status or inability to pay. If you have insurance, we can help you understand it and use it. For patients who are uninsured or underinsured, we offer a sliding scale fee based on your income and family size. Financial interviews are conducted prior to the initial appointment to determine payment source and/or eligibility on the sliding fee scale. Programs not eligible for the sliding fee include Intoxicated Drivers Program and the Choices Program. Only Richland County residents are eligible for the sliding fee.
A fee schedule for all services is available upon request.
Making an Appointment
Persons interested in receiving services can contact the appointment desk at 647-8821. Some basic information will be gathered and the scheduling process for the desired service will be explained. A professional staff member may conduct a follow up contact in order to get additional information in order to ensure that the most appropriate service can be offered.
Office Hours
Monday through Friday 8:00am to 4:30pm
---
Recovery is a journey of healing and transformation enabling a person coping with mental illness or addiction to live a meaningful life in a community of his or her choice while striving to achieve his or her full potential. There are effective treatments for mental illnesses and addiction.
Recovery is possible for everyone!
Top