Child & Youth Services
Child & Youth Services Mission Statement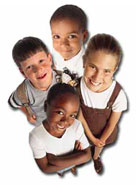 The Child & Youth Services Unit of Richland County Health and Human Services, a public child welfare unit including child protection and delinquency in Wisconsin, believes children have a right to be free from harm and have families and communities that will provide care, protection and promote healthy growth and development.
We are committed to preserving families whenever possible by respecting the rights or the family and supporting their efforts to provide safe and permanent homes for their children.
We are committed to providing services that will support and encourage juveniles to make responsible choices that will keep our community safe.
In partnership with families and the community, we will fulfill our mission by providing and/or purchasing a wide range of culturally appropriate services in an effort to keep children free from abuse and neglect and teach socially responsible behavior.
Call 608-647-8821 for Child & Youth Services
Services Provided
Protective Services
Child abuse and neglect investigations
Child / Family services assessment
Court Ordered Services
24 hour coverage of Juvenile Intake and Children in Need of Protection and Service (CHIPS)
Monday - Friday 8:30am - 5:00pm Call 608-647-8821 - Ask for Children's Services Access
After Hours, & Holidays Call Sheriff's Department 608-647-2106 - Page for On-call Worker
Juvenille & Child Protection Services
Case Management
Juvenile Support Aid
Parent and Family Support Aids
Restitution
In-Home Individual and Family Therapy (Contracted)
Respite Care
Foster Care
Kinship Care
Specialized Foster Care (Contracted)
Shelter Care (Contracted)
Group Home (Contracted)
Residential (Contracted)
Secure Detention (Contracted)
---
Truancy Information
---
Child Protection Services (Voluntary Services)
Information and Referral Services
Case Management
In-Home Individual and Family Therapy (Contracted)
Services and Counseling
Parent/Family Aids
Family Preservation Services
Respite Care
---
Certification and Licensing
---
Top