Wisconsin Regional Map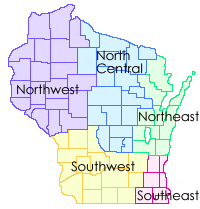 RICHLAND COUNTY HIGHWAY COMMISSION …
LOCATION…
120 Bowen Circle, Richland Center, WI 53581
MAP and DIRECTIONS
SOUTHWEST WISCONSIN REGION…
Wisconsin is divided into five regions: Northwest, North Central, Northeast, Southeast, and Southwest. The Southwest Transportation Region is comprised of Columbia, Crawford, Dane, Dodge, Grant, Green, Iowa, Jefferson, Juneau, La Crosse, Lafayette, Monroe, Richland, Rock, Sauk, and Vernon counties.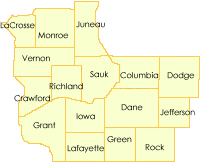 Do you have a question about the Southwest Transportation Region?

Click the FAQ or Email us with comments or questions.